10 Things to Know About the Census for LGBTQIA+ APIs
NQAPIA encourages all in our community to fill out the Census. We recognize that the data collected is inherently unrepresentative of the multiplicity of our identities. Although it can feel reductive, it is necessary because of the very real implications towards how the government will allocate resources and political representation. The Census holds a lasting impact; its results are used for ten years.
NQAPIA adopts a harm reduction model in our Census work to best support our communities. While we are encouraging our community to engage, we also filed a complaint letter and are gathering feedback from trans and GNC individuals. We ask that you stand alongside us. We ask that while you might not fully support the Census, you need to fill it out.
1. It's about money for resources for our communities
Census data is used to allocate billions of dollars in funding for government services and programs, such as:
$29 Billion in financial aid (Pell Grants) for college

$8 Billion for Foster Care and Adoption Assistance to help queers start families

$645 Million in HIV Emergency Relief to stop the spread of HIV/AIDS

$457 Million for mental health services

$133 Million to prevent same-sex domestic violence

$48 Million for community arts programs and for queer and trans artists

$4.7 Million to prevent abuse, neglect, and exploitation of older Asians Americans

Priceless for bilingual ballots for Asian voters on Election Day.
2. It's about political power
Data from the Census is used to apportion Congressional seats among the states as well as to make Congressional, State Legislative and City Council districts equal in population. The Census can be a check on the outsized influence that some right-wing politicians and conservative states command.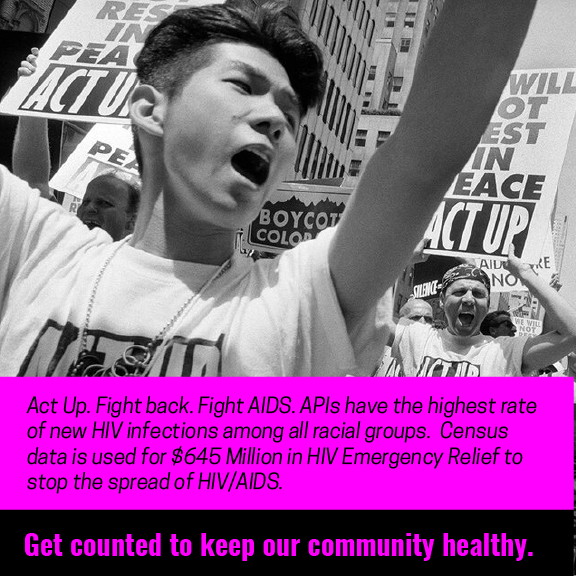 [Image description: ACT UP black and white protest photo. Text along the bottom saying "Act Up. Fight back. Fight AIDS. APIs have the highest rate of new HIV infections among all racial groups. Census data is used for $645million in HIV Emergency Relief to stop the spread of HIV/AIDS"]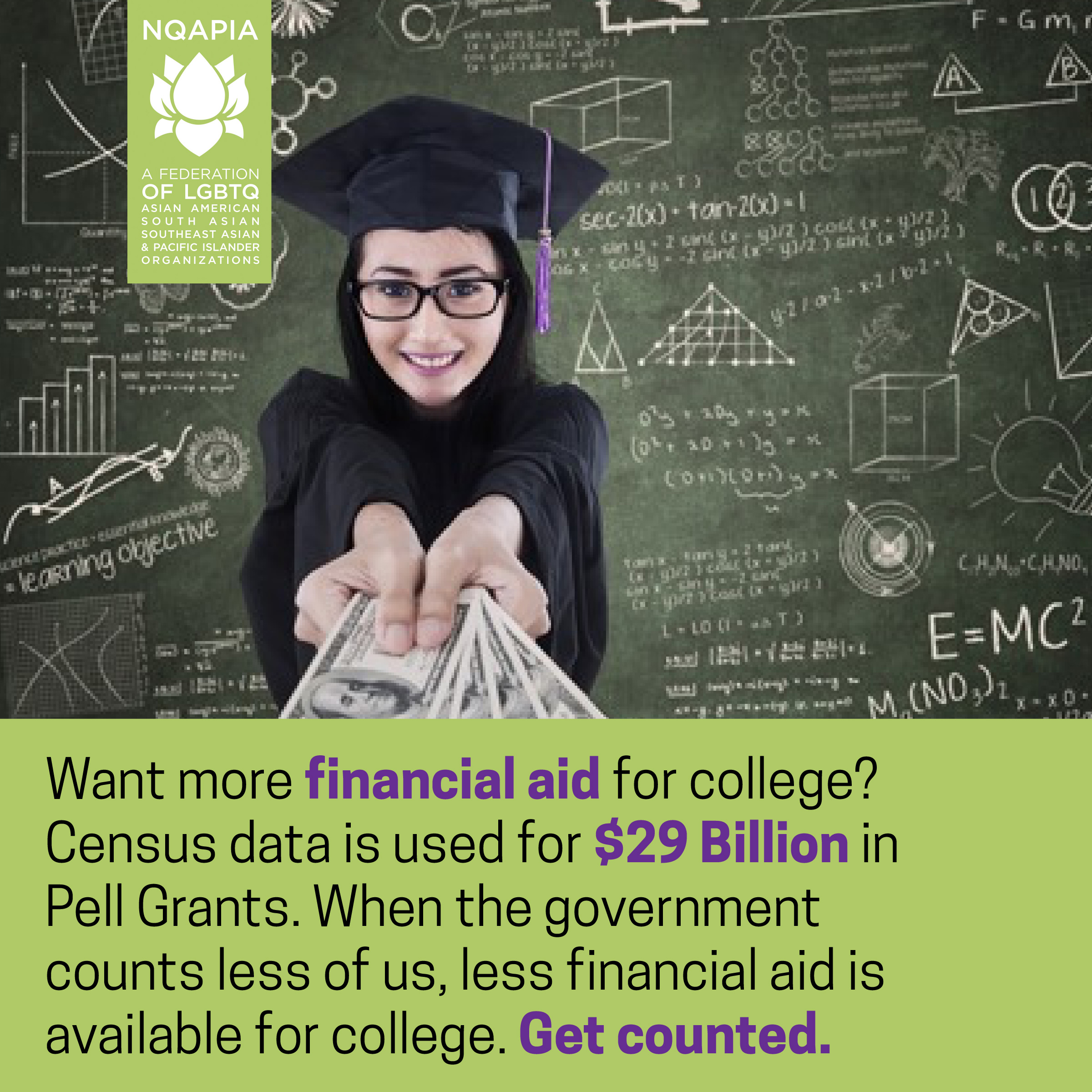 [Image description: Student holding money in front of chalkboard. Text along the bottom "Want more financial aid for college? Census data is used for $29 Billion in Pell Grants. When the government counts less of us, less financial aid is available for college. Get counted."]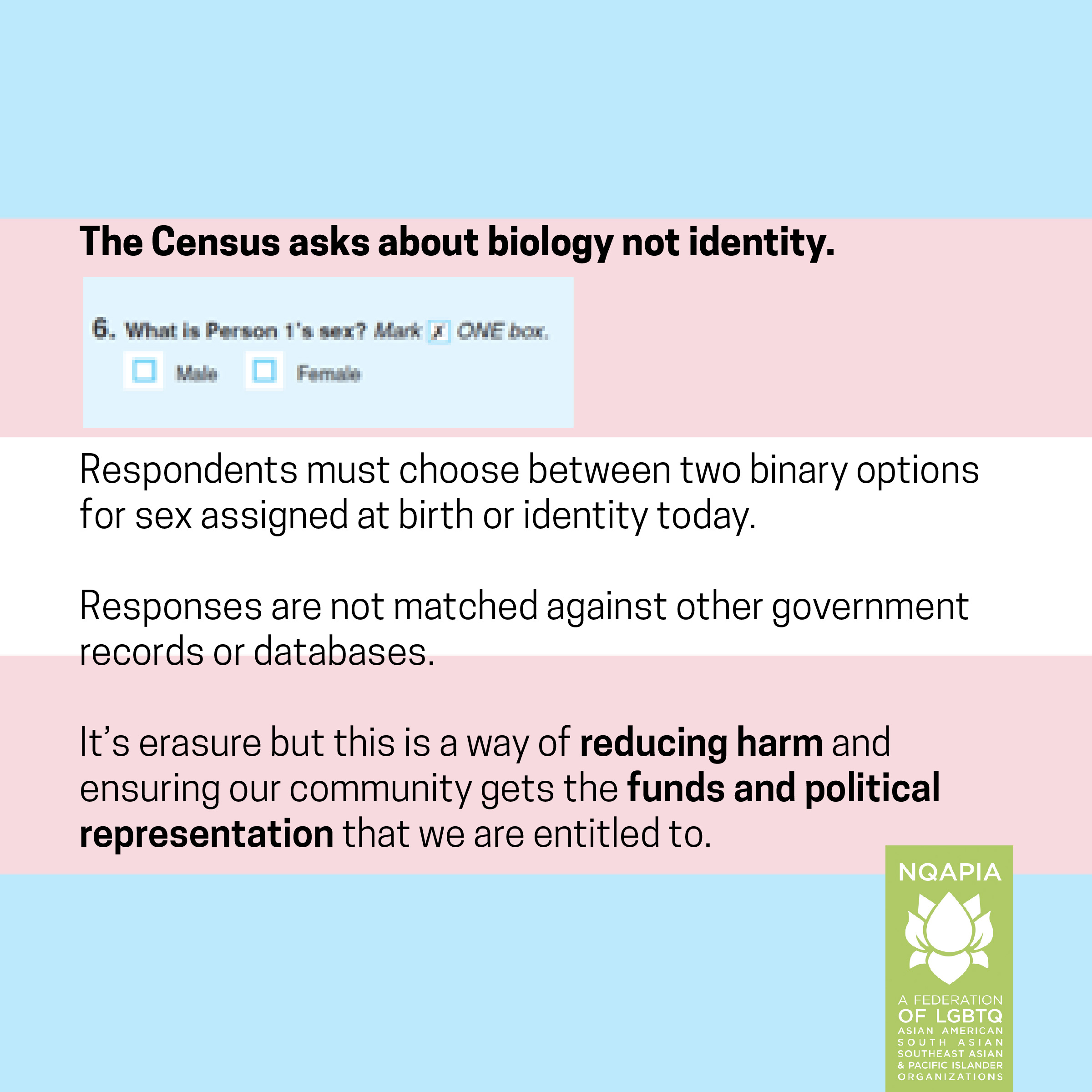 [Image Description: Trans flag with text saying "The Census asks about biology not identity. Respondents must choose between two binary options for sex assigned at birth or identity today. Responses are not matched against other government records or databases. It's erasure but this is a way of reducing harm and ensuring our community gets the funds and political representation we are entitled to."]
3. Recognition of same-sex relationships, but not sexual orientation
The Census does not count LGBT people per se, but it does count same-sex married spouses and unmarried partners. The Census found over 700,000 same-sex couples in the U.S.
4. Erasure of trans and gender non-conforming people. Asks biology not identity
People may only check "male" or "female" for the sex question. Transgender and GNC respondents must choose between these two binary options for their sex assigned at birth or how they identify today. If blank, the Bureau might contact you by phone, in person or may impute a response for you. Fortunately, responses are not matched with other government records or databases.
5. Confidential and No sharing.
Under federal law, Title 13 U.S.C. §§ 8, 9, 221, personal information given to the Census is private and may not be shared with the immigration service, IRS, or law enforcement. The protections have been upheld and strengthened by courts of law.
6. Only 9 questions
Name, age, date of birth, race/ ethnicity, relationship (spouses, roommates, children), sex (not gender), rent or own home, number of people in household, and phone number. The census does not ask about citizenship, employment, income, or immigration status.
7. How, When, Translations
Responses are due online, by phone, or by mail. In mid-April, non-responding households will receive a paper questionnaire in the mail. From May to August, census takers will visit homes that haven't responded. The online form is also available in Simplified Chinese, Vietnamese, Korean, Arabic, Tagalog, and Japanese.
8. Fines up to $5,000 for not responding
Federal law also requires all residents to completely and truthfully answer all questions. People can be fined up to $5,000 for not responding to the census. 13 U.S.C. § 221; 18 U.S.C. §§ 3571, 3559. It is illegal to discourage others from participating and punishable by fine, imprisonment, or both.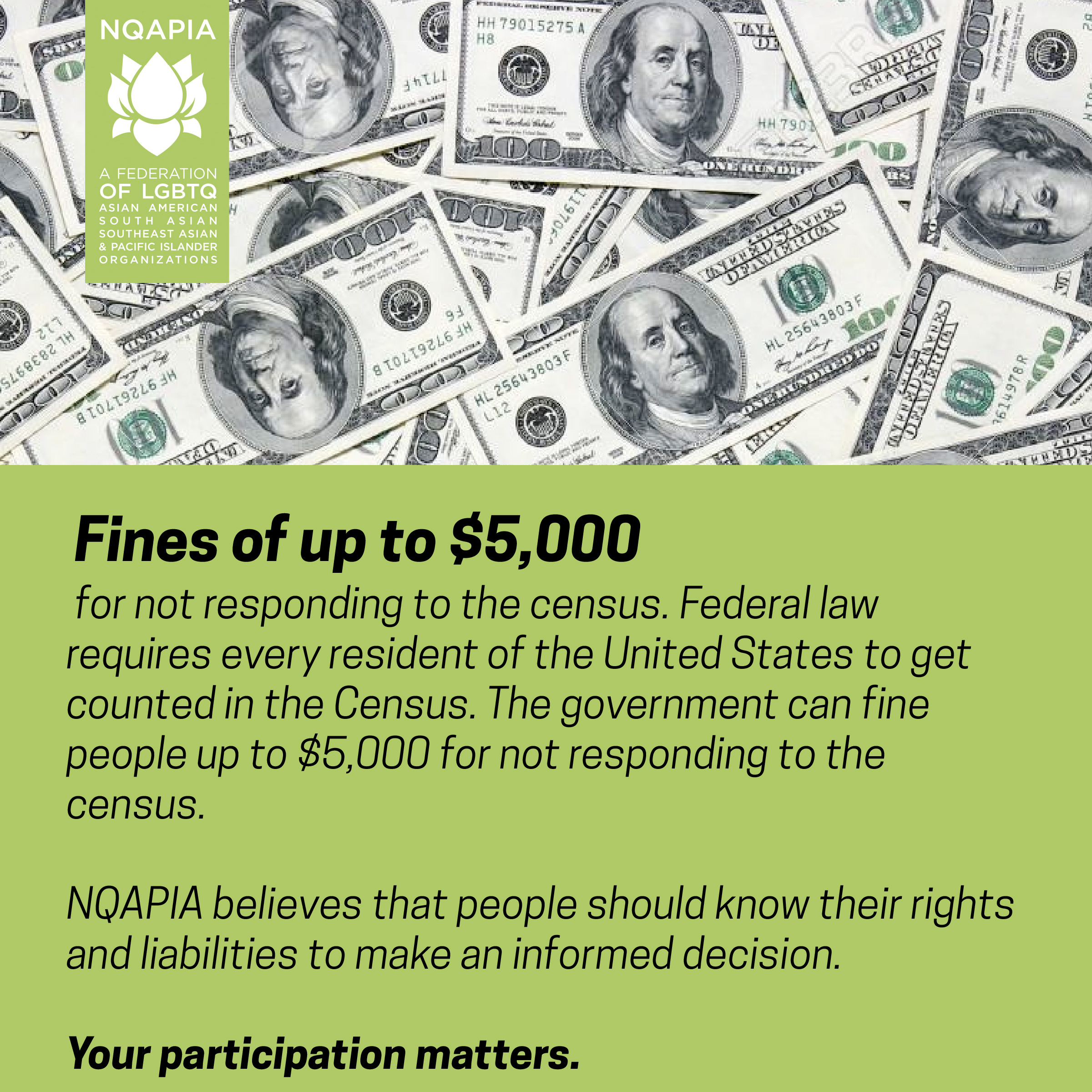 [Image Description: Photos of $100 bills with text along the bottom "Fines of up to $5,000 for not responding to the Census. Federal law requires every resident of the United States to get counted in the Census. The government can fine people up to $5,000 for not responding to the Census. NQAPIA believes that people should know their rights and liabilities to make an informed decision. Your participation matters."]
9. Census suppression and misinformation efforts
A white supremacist agenda is to confuse and discourage LGBT, people of color, and gender variant people from getting counted so the government can provide less funding for critical programs and services that we deserve. Report to rumors@census.gov
10. Report Problems to NQAPIA
NQAPIA will keep our community safe during the census. Lawyers are ready to answer questions about confidentiality and sue if there are any breaches. Report problem and concerns here:

http://bit.ly/2ULyiLy
National Queer Asian Pacific Islander Alliance (NQAPIA)
PO Box 1277 Old Chelsea Station | New York, New York 10113
info@nqapia.org